This is a video recipe of Buhtle with Jam. The recipe is cooked in a pan and this recipe is cooked on low heat, so it takes awhile to cook. You can try it. This is a very good recipe for every day dinner.
This dish is as old as the hills, and its roots are said to go all the way to the Serbs of Croatia. Dubrovnik, the ancient city of the impetuous sea, has a special place in the hearts of Croats. This city is famous for its gorgeous stone buildings, its vibrant sea coast and its old quarter. This is also the hometown of Buhtle, a traditional dish that is cooked since the Middle Ages. It's a perfect dish for winter, when everything is cold. It's a stew made of meat, vegetables and herbs, usually served with white bread. But in Dubrovnik, they serve it with jam.
Hi, my name is Marko and today I will show you how to make Buhtle, a traditional Croatian food. Buhtle is a light pastry made with flour and butter. The name Buhtle comes from the word "buhtlo" which literally means "little cowl". In Croatia, Buhtle is consumed on a daily basis as a breakfast and/or dessert.. Read more about croatian food and let us know what you think.
Buhtle are yeast-based sweet buns that are typically filled with jam or chocolate.
The Buhtle originated in Bohemia, but it is also popular in Austria, Slovakia, Slovenia, and Hungary, and has found its way into Croatian kitchens.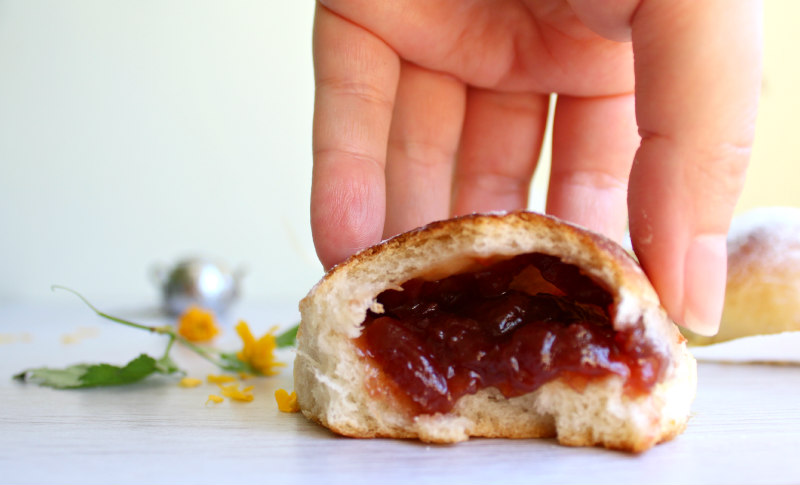 Ingredients
180 mL of milk 240 g fine flour 120 g course flour Sugar – 30 g Yeast – 25 g 120 g Rum – 10 ml Lemon – 1 egg – 2 butter Icing sugar – 150 g plum jam
Instructions
1. Pour the heated milk (about 35°C) into a mixing dish, add the yeast, and a teaspoon of sugar, and stir thoroughly.
2. Stir in approximately a third of the flour (both types) into the milk mixture. Cover with a tea towel and let aside to rise at room temperature.
3. After around 15 minutes, add the remaining flour, grated lemon peel, sugar, rum, egg yolk, melted butter, and a sprinkle of salt to the mixture and stir well.
4. Cover the mixture with a tea towel and allow it to rise again.
5. After about 40 minutes, roll out the dough to a thickness of 1 cm on a floured surface. Circles should be cut off (6-7 cm in diameter).
6. Place a spoonful of jam in the center of each circular.
7. Brush the plate in which they will be fried with melted butter and dust with flour.
8. Fold the rounds in half and dip the tops in melted butter before placing them upright in the dish.
9. Bake for 30 minutes at 180°C in the oven.
Dobar Tek!