We have often said that we are a guide for travelers, but we try to go a step further and help them with things they did not know or consider before their trip. Sometimes it is hard to locate the church. Why not ask us? We are here ready to answer all of your questions, we will assist you in your travel.
As we travel the world, we often think about how different cultures have different ways of viewing our world. As we travel the world, we often think about how different cultures have different ways of viewing our world.
Have you ever been to a beautiful church and thought: "Wow! I just want to be in that church. I can just sit there and stare at it all day long.. and every day… forever. I want to go to a beautiful church, everywhere I go!" Well… here you go.
Many magnificent architectural sacral monuments can be found across Croatia, including the Cathedral in Osijek's eastern town and many other exquisite churches in Slavonia and Zagorje.
The magnificent St. Euphemia Church in Rovinj and the Euphrasian Basilica in Pore, as well as many examples of Medieval, Gothic, and Renaissance architecture along the Adriatic coast, make compiling a list of the most beautiful difficult.
However, there are 11 churches worth seeing on your trip.
Trogir's St. Lawrence Cathedral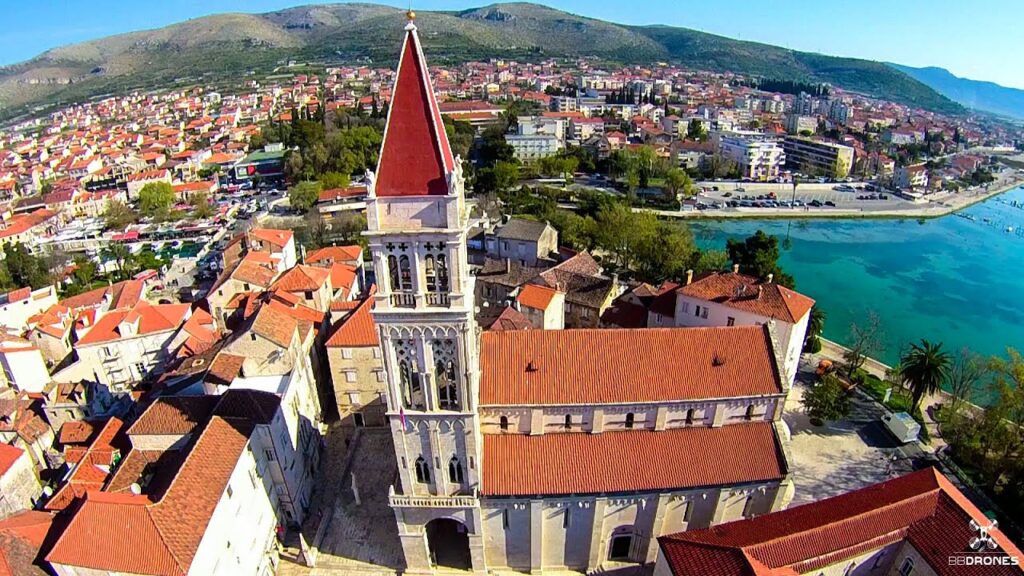 This cathedral, constructed in Romanesque and Baroque styles in the 13th century, is one of Trogir's most renowned buildings and a UNESCO-protected world heritage site. The primary entry is via Radovan's gateway, a marvel of craftsmanship constructed in 1340. The bell tower, which stands 47 meters tall and is one of the most magnificent on the Mediterranean coast, is one of the most beautiful in the world.
Sibenik's St. James Cathedral
The Cathedral was included to the UNESCO list of global cultural property as Croatia's most important architectural accomplishment of the 15th and 16th centuries. It has been a magnificent example of three distinct styles: Gothic, Renaissance, and their combined style for more than 100 years, and it is currently a wonderful example of three different styles: Gothic, Renaissance, and their mixed style.
Zadar's St. Donat Church
St. Donat is a patron saint of the Catholic Church (Photo: Yuya Matsuo)
The church of St. Donat is Croatia's most renowned structure and one of Europe's most significant pre-Romanesque churches. It was first referenced in the works of Byzantine Emperor Constantine Porphyrogenitus in the 10th century. It is a one-of-a-kind and magnificent architectural model due to its monumentality and cylindric shape.
Cathedral of Zagreb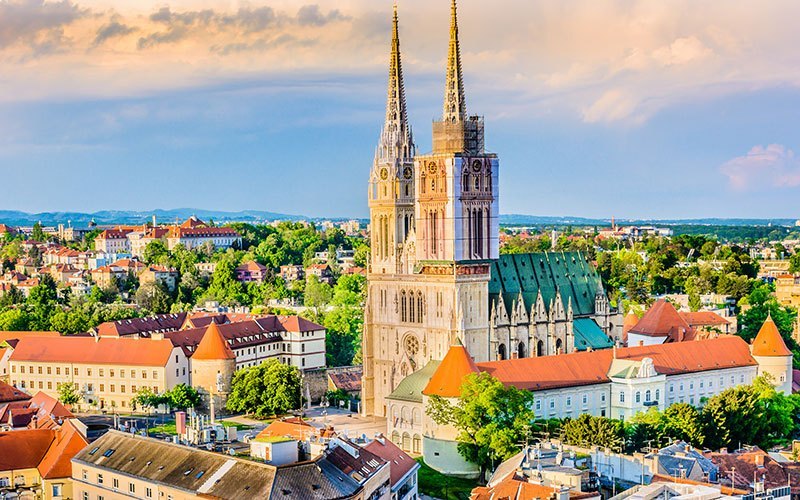 King Ladislav built the Diocese of Zagreb in 1094, and it has since grown to become Croatia's biggest sacral structure, standing 108 meters tall and one of the country's most important cultural treasures. This lovely Neo-Gothic building is currently being restored, but its whole construction continues to amaze.
Zagreb's St. Mark's Church
Because of the Romanesque window on the south façade, the church is thought to have been constructed in the 13th century. The church was completely rebuilt in the second part of the 14th century. It was subsequently converted into a three-nave late Gothic church.
The coats of arms of Zagreb (white castle on red backdrop) and the Triune Kingdom of Croatia, Slavonia, and Dalmatia are depicted on the roof with tiles.
Dakovo Cathedral
This is the architectural masterpiece of Dakovo bishop and patron Josip Juraj Strossmayer, dubbed "the most magnificent church from Venice to Istanbul." Since akovo was a relatively tiny town more than 150 years ago, it was remarkable that he had chosen to construct a huge church, 84 meters high, exactly here. Its colossal structure has become a symbol of Croatia's eastern region.
Split's Saint Domnius Cathedral
The Cathedral of Saint Domnius, also known as Sveti Duje, is a church and bell tower complex that was built from an Imperial Roman tomb. The cathedral is devoted to the Virgin Mary, while the bell tower is dedicated to Saint Domnius. They form the Cathedral of St. Domnius when they are all put together.
The Cathedral of Saint Domnius, which was dedicated around the turn of the seventh century AD, is considered as the world's oldest Catholic cathedral that is still in use in its original form, with only minor renovations (though the bell tower dates from the 12th century).
Rovinj's St. Euphemia Church
Over the ruins of earlier, early Christian buildings, this church was erected in 1736. The remains of Saint Euphemia are kept in a sixth-century Roman sarcophagus (but adapted in the 15th century). Several valuables and works of art may be found in the cathedral, including Gothic sculptures from the 15th century and paintings from the 16th and 17th centuries:
The bell tower is reminiscent of the bell tower at St Mark's Basilica in Venice. It was constructed between 1654 and 1680, according to Antonio Manopola's designs. The statue of Saint Euphemia, which serves as a wind vane, sits atop this 60-meter-high tower.
Korcula – St. Mark's Cathedral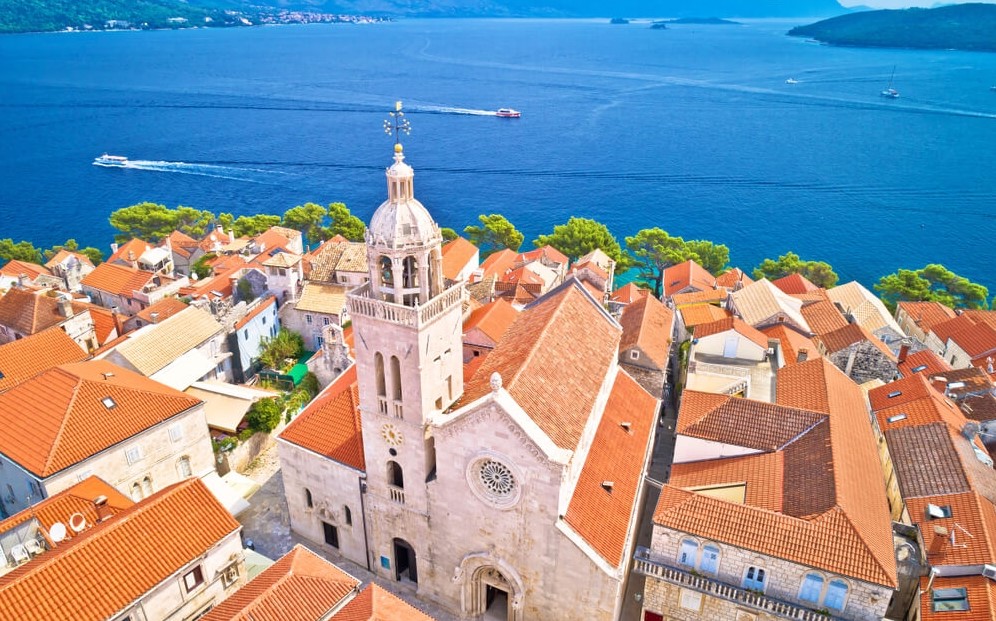 Local masters constructed the Cathedral of St. Mark, also known as Korula Cathedral, during the fifteenth and mid-sixteenth centuries. It is located in the city's center, near the tip of the peninsula. An organ was installed in the cathedral in 1557.
Dubrovnik's Saint Blaise Church
Marino Gropelli (1662-1728), a Venetian architect and artist, constructed this church in 1715 on the ruins of a severely damaged Romanesque medieval church. The inside of the barrel-vaulted building is lavishly adorned in Baroque style.
A Gothic figure of Saint Blaise, created in the 15th century by an unknown local artist, may be seen on the main altar.
Co-Cathedral of Osijek
The Church of St Peter and St Paul in Osijek is a neo-Gothic sacral building. One of the city's highlights is the multi-tiered 90-meter spire. The church was constructed in 1898 at the request of Bishop Josip Juraj Strossmayer of akovo.
Outside of Zagreb, this is Croatia's tallest structure, with a capacity of over 3000 people during Mass.